Apparatus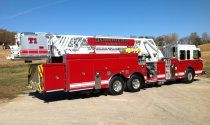 Tower 1
2014 Smeal Aerial
This truck was built by Smeal Manufacturing and features a Spartan Gladiator chassis and cab. It features a Cummins 500HP engine with an Allison 400 EVS transmission. A 2000 gpm pump, 300 gallon tank capacity, a large selection of ground ladders, and a 100ft Mid Mount Platform Aerial with a Akron Deck Gun.
Engine 1
2004 Pierce Enforcer
This custom cab truck built by Pierce Manufacturing features a 1500 gpm pump, 1000 gallons of water, 20 gallon foam tank, Husky foam system, 10 KW hydraulic generator, hydraulic ladder rack, TAK 4 independent front suspension, 360 degree roll over protection. Recieved by the fire department in February 2004, and is currently the first out fire apparatus.
Engine 2
This truck was built by Smeal Manufacturing and features a Ferrara chassis and cab. It features a 2000 GPM pump backed by a 750 gallon pump.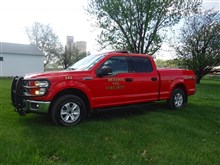 Command Vehicle
This custom built 2017 Ford F-150 has replaced an aging 2004 Ford Excursion. It has a liftable topper over the bed and a slide out tray inside the bed of the truck for easy access for the Chief's communication devices and equipment.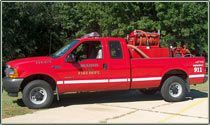 Quick Attack 1
This 2001 Ford F350 was customized by the department as a versatile fire fighting apparatus. It is equipped 300 gallons of water, a 300 gpm pump, and is foam capable. This vehicle also carries a 120 pound purple K fire extinguisher.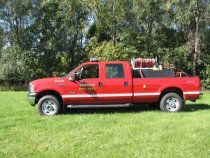 Quick Attack 2
This mini-pumper is built on a 2006 Ford F350 chassis and is equipped with 300 gallons of water and a Danko skid unit.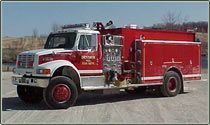 Tanker 1
This is a 1999 International Tanker/Pumper built by Toyne Fire Apparatus. It is a new breed of dual purpose fire apparatus designed by the department, to serve two functions for the fire district. As a pumper for city use and tanker for rural use. It has 1500 gallons of water, a 1000 gpm pump, a 2100 gallon portable dump tank, all wheel drive, and ground ladders.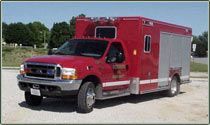 Rescue 1
This is a 1999 Ford F550. This vehicle was purchased in the fall of 1999 and replaced a 1973 Chevrolet Value Van. This unit is the primary heavy rescue unit for Crawford County and carries all of our heavy and tactical rescue equipment. This vehicle was built by AmTech.
1929 American LaFrantz
Denison's firefighters are very proud of their history. This truck has been proudly serving in Denison's fleet since 1929. This truck has been completely rebuilt and is a beautiful piece of equipment.